In many ways, Abedin's story is the great American dream: the daughter of immigrants, both academics, she never considered a career in government. "I was 21," she says, "and I wasn't even sure I was a Democrat.
Initially, Abedin wanted to experience the White House press office, but was unsuccessful and was sent, instead, to the first lady's office. "My mother at the time said, 'You know, plan A didn't work, but maybe plan B will work. And plan B turned out to be pretty good.
Working at Hillaryland, as the First Lady's office was called at the time, was "a place to swim."
"It was an intense atmosphere, the stakes were very high."
A job presented itself to help Clinton on a trip to Argentina and Abedin accepted it, leaving a family marriage in the first of many personal events she would sacrifice for the sake of her career. "I wasn't qualified, I was the youngest in the office, but I went because I wanted to."
Things didn't always go according to plan: Abedin once dropped Clinton's dry-cleaning bag from a helicopter in the Hudson River (incredibly, she managed to recover both and dry the clothes, and Clinton was none the wiser) and once gave Clinton the wrong speech to read aloud.
"There were a lot of times when I wasn't sure I could do it. My brain was constantly obsessed with solving problems. It's always like that.
It is this endless stream of crises that she describes in the book as "like drinking water from a non-stop fire hose."
Clinton's memoir was titled Living history, and in many ways, Abedin herself lived the story by his side, riding a shotgun with Clinton through her husband's impeachment, her rise to the New York Senate, the 9/11 attacks, her first term as President and the 2016 defeat against Donald Trump.
American policy, says Abedin, has changed dramatically since it started in the White House. "When I started, politics was a cause," she says. "There was so much going on in the country, and the United States was seen as the only superpower in the world. "
She cites examples: Clinton giving her "Women's Rights are Human Rights" speech in Beijing, Bill Clinton's historic visit to Northern Ireland in 1995. Abedin herself visited refugee camps in Macedonia with the Clintons after the wars in Bosnia and Kosovo.
"There was a pretty extraordinary feeling of opportunity, of hope, of possibility," she says of her early years in government. "Even though we had political divisions, it wasn't like that today. "
There has been, she writes, "an extreme polarization of views and a deterioration of the discussions."
In 2012, Abedin found herself at the center of persistent rumors that she was a Muslim spy herself, an episode she describes as "incredibly painful."
"Sometimes we forget that as nations we are co-dependent on each other," she says. "And it's up to our leaders to find a way to work together. This is one of the reasons she writes about her Muslim faith in the book.
"The average American doesn't know much about me," she says. "I saw people read the book and say, 'Oh, do you believe in Jesus?' Islam has become a bogeyman, certainly in politics, and I wanted to demystify it.
Faith, she says, got her through her darkest days. "I mean, what is Islamic prayer? Ultimately, it's a meditation, it's just stepping back from the world and reflecting on your thoughts, actions, and intentions. It is a conversation between you and a higher power.
And she had her share of those dark days. In 2016, a week before the election, James Comey and the FBI reopened their investigation into Hillary Clinton's emails after finding correspondence between Clinton and Abedin on Weiner's computer, which had been seized in the part of his own criminal misconduct. Although nothing suspicious was ultimately found, there were concerns that the emails contained classified information.
"I was basically hollow at the time," she says. "It was selfish to feel anything. We had a deadline of November 8, a mission to elect Hillary. "
This mission, of course, did not succeed. Abedin remembers the "citywide mourning" she witnessed the next day, walking the streets of Manhattan. Her first conversation with Clinton on Nov. 9 was a lesson in resilience, she says.
"The very first thing she said to me before getting in her car to go home was, 'I have to help all these kids. I have to help people get back on their feet.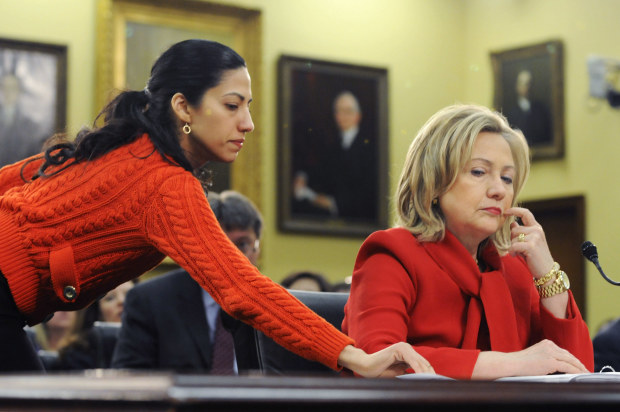 Clinton taught her a radical empathy, she says, and she attributes that to her own survival as well. Those looking for a stunning tea memoir on Clinton will have to look elsewhere; it is clear that Abedin's loyalties are still very much attached to the former secretary of state.
"She rises every day, motivated by how to make the lives of every man, woman and child better, fairer, more prosperous. Most of the decisions I have made have been based on understanding what it is like to be someone else.
When Weiner's photographs leaked, Abedin had to force herself to "stop pain shopping" – that is, actively seek out ways to feel bad – and begin to understand her husband's behavior. so. "You have to have radical empathy to understand what's going on, because a lot of the behavior just doesn't make sense to you. "
The parallels between Abedin's personal life and those of her boss and her husband Bill Clinton are unmistakable, but with one key difference: Abedin eventually left Weiner, although she initially stood by his side. It is an experience that she tells frankly and in detail in the book. "People naturally wondered why I was staying [at first], "she said." This was my chance to explain my side. "
Given her experience and the company she maintains, it is not impossible to imagine that Abedin may one day aspire to a political office herself. She quickly closes the notion.
"I messed up the first day of my interviews saying it was my year to say yes," she laughs. "And then I was asked if I was running for office. So… I said yes. But I don't really see myself doing that.
"I mean, I want to be open to new adventures and ideas. But I don't think I'll ever be completely disconnected from my boss; Hillaryland is a club that comes with a lifetime membership.
She's more comfortable, she says, helping other women achieve their own political dreams. "If there was another woman running, that's where I saw myself helping. But it's so, so hard. Part of writing the book is simply reminding people of what Hillary faced and honoring the story she made. "
Once again, Abedin's own story has taken a back seat – but this is how she loves it.
Both / and: a life in several worlds (Simon & Schuster) is now available.