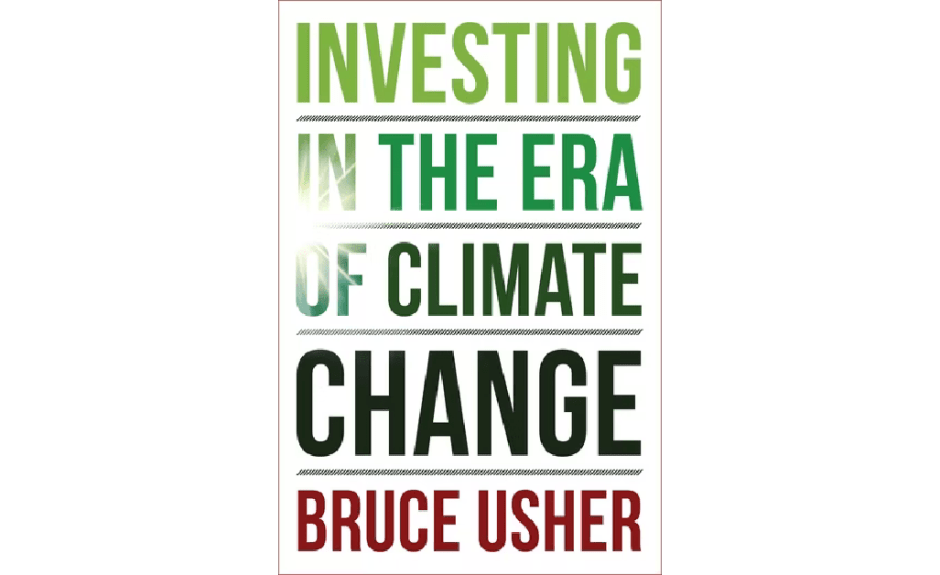 ---
The scientific consensus is that climate change is real, happening now, and potentially catastrophic. As a result, most countries have pledged to reduce their greenhouse gas emissions with the goal of reaching "net zero" emissions by the middle of the 21st century. To achieve reductions, innovation and investments are needed on a large scale.
Columbia Business School's Bruce Usher approaches the issue from an investor's perspective, and Investing in the age of climate change, it identifies both what the implications of climate change are for the investment community and how investment capital allows us to "save ourselves from ourselves". The role of investors, he says, is nothing less than "funding the future of the world".
At the start of the book, Usher reports on technological developments that can mitigate the effects of climate change – renewable energy, electric vehicles, battery storage, green hydrogen, and carbon disposal. This discussion serves as a valuable introduction to later sections that discuss the implications of these climate solutions for the investment community.
A section identifies the alternative strategies that the investor can use:
Risk mitigation
Divestment
Environmental, Social and Governance (ESG) Investing
Thematic impact investing (to fund businesses that address a specific environmental or social challenge, such as climate change)
Impact First Investing (in which investors focus on solving social and environmental issues and are willing to accept a below-market financial return in exchange for greater impact)
Each of these strategies is suitable for a particular type of investor. University endowments may opt for divestment, large fund managers for ESG, specialist fund managers for thematic impact investing and philanthropists for impact investing first. Some approaches help control risk; others (according to Usher) can improve yields.
Stating that "all investors need to understand the opportunities and risks of investing in real assets that offer climate solutions", the author then turns to financial and real assets. Real assets include renewable energy projects, real estate, forestry and agriculture. His analysis examines valuation issues relevant to large-scale renewable energy projects, as well as information on government incentives and potential returns (6% to 8% internal rate of return for solar and wind projects and potentially more return for high-risk investments in battery energy storage systems).
The real estate discussion is brief but includes considerations such as flood and wildfire risks as well as the benefits of energy upgrades – the Empire State Building is an interesting example. The importance of carbon markets is illustrated by the chapter on forestry and agriculture.
The author's analysis of financial assets includes chapters on venture capital, private equity, private equity, equity funds, and fixed income securities. We are given interesting examples of successful and unsuccessful investments, as well as the following approaches to evaluating investments in the age of climate change:
Does a company minimize risks by reducing its emissions, both direct and indirect?
What would be the impact of a price on carbon?
Is the company an incumbent in an industry or a disruptor? If it is a disruptor, what is its probability of success?
The chapter on equity funds identifies many types of climate-focused funds and exchange-traded funds (ETFs) currently available. The analysis covers the differences between low-carbon funds, fossil-free funds and climate transition funds. The author notes that some of these funds are particularly large and successful: "BlackRock's Carbon Transition Readiness ETF brought in $1.3 billion on the first day of trading, making it the largest launch in three decades of ETF industry history."
A successful fund launch is an example of how investing in climate solutions has become mainstream. The same goes for the creation of bodies such as the Glasgow Financial Alliance for Net Zero – "a global coalition of 450 financial firms managing assets of over $130 trillion who are committed to zeroing emissions of greenhouse gases".
The author believes that fixed income markets will be the most important for financing climate solutions. This is partly because of their scale, and partly because many projects, with stable cash flows over long periods, lend themselves to debt financing. One important area is "green bonds", the market for which is described as "red hot". In 2021, $500 billion of green bonds have been issued. Other innovations in fixed income investing include the securitization of leases and solar loans.
Several times throughout this book, we have read about cost estimates of needed climate solutions. The various numbers can be confusing, but all are broadly consistent with a Boston Consulting Group estimate of what is needed: $3 trillion to $5 trillion per year. This huge level of investment is a huge step up from where we are today (spending around $600 billion a year, according to Usher). Investment is necessary, however, not least because other possible responses to climate change can be convincingly dismissed. (These alternatives include adaptation and controlling population growth.)
A welcome aspect is that the general tone of the book is optimistic, with a focus on solutions rather than resorting to despair. Sometimes, however, this approach means ignoring certain risks to climate goals. For example, animal husbandry contributes materially to greenhouse gases (in the form of methane), but apart from references to the success of Beyond Meat, the author offers us few solutions to the issue of animal husbandry.
Similarly, it says little about how to mitigate emissions caused by cement production. Furthermore, although he writes that "perhaps the greatest challenge to reaching net zero is the inability of countries to cooperate", he says little about how we depend on fragile global supply chains. for solutions, such as battery storage systems. The author clarifies, however, that his aim is not to describe all possible solutions to the climate crisis, but to focus on the implications of climate change for investors.
Investing in the Age of Climate Change draws from a wide variety of sources and is both well researched and highly readable. Some readers may be familiar with much of the material, but for others it may prove inspiration for investing in climate change mitigation – looking for investment opportunities and our collective future.
---
Disclaimer: Please note that the content of this site should not be construed as investment advice, and the opinions expressed do not necessarily reflect the views of CFA Institute.
---
Editor's note: The summary bullet points for this article were chosen by the Seeking Alpha editors.