By Sarah Osman
Faleeha Hassan's assessment of the damage done by America – through the "good intentions" of regime change – may surprise many who depended on the mainstream media to find out what happened in Iraq.
The War and Me: Memoirs by Faleeha Hassan. Translated by William Hutchins. Amazon Crossing, 364 pages, $24.95.
Novels about the horrors of war are always popular. The "holocaust" genre, despite some ethical concerns, has inspired multiple bestsellers. Slightly less popular are non-fiction books about war written by those who experienced it first-hand. In the memoirs of Faleeha Hassan, war and me, she recounts what life was like during the Iran-Iraq war and reflects on the odious consequences of the conflict. This is not your standard war story. Hassan details what life was like for her and her family, Iraqis struggling to maintain some sort of daily existence as fighting raged around them.
It is this narrative distance from bomb explosions or ongoing atrocities that makes war and me such an interesting read. Hassan even dismisses fears that his father may not return from the front. She's a teenager, and a young suitor slyly leaves her notes and even arranges for her mother to drop her a nice present. It's hard not to adore Hassan's new gentleman and share his anger when he suddenly disappears for two months. He later reveals that he has been at the front. And then the tragic conclusion of the romance – Hassan's suitor is killed in battle, a shock that shakes him to the core. The innocence of first love is shattered by the harsh reality of living in a wartime dictatorship.
Hassan and her family are deeply affected by the war, but she still gets an education and works as a teacher. She eventually joins a group of leading writers and artists, where she gets the chance to discuss books and philosophy. With the help of some of her intellectual colleagues, she even published a volume of poetry. Unfortunately, she faces attacks from misogynists who reject her poetry because they are furious that a woman has published a book. (Luckily, a writer from Baghdad manages to put a quick end to some of this nonsense.) Despite the death and destruction that surrounds her, Hassan lives her life as best she can. She makes a terrible mistake and falls into a trap: she marries a horrible man with an even more horrible mother. The way Hassan handled his marriage is a testament to his strength of character – as well as a not-so-veiled critique of the hypocritical expectations placed on "good" Arab girls.
Hassan's memoir also undermines many stereotypes about his country. For example, she criticizes the idea that Iraqi women are submissive; Hassan is brave, stubborn and determined to pursue her own career. His family supports his upbringing and generally helps each other. Her father is the opposite of her husband: he's kind, caring, and does his best to keep his family's spirits up.
As for politics, Hassan is not afraid to assess how destructive the US economic embargo on Iraq has been to the lives of the Iraqi people. Those who should have been punished were not, while most Iraqi civilians could not maintain a comfortable life. Many struggled to feed themselves and their families, despite working multiple jobs. Hassan never directly criticizes the US government: she simply presents evidence of how decisions made in Washington have hurt the local population more than the big cats of the Iraqi government. His direct look at the damage done by America – through the "good intentions" of regime change – may surprise many who depended on the mainstream media to find out what happened in Iraq.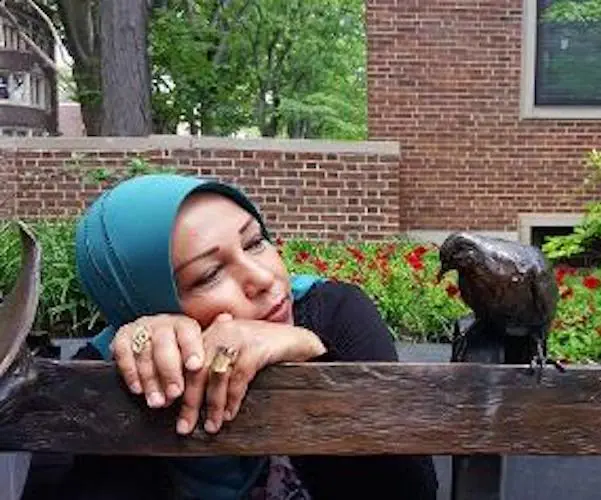 Hassan is a poetess and, at her best, her prose resonates with the strengths of traditional Arabic verse. Unfortunately, here and there William Hutchins' translation seems to have missed the nuances. Some of the sentences here are uncomfortably robotic.
war and me could have used more self-reflection. Hassan takes an emotional approach to her experiences, but she tempers her observations with wise reserve. It's a powerful memoir about the resilience of the human spirit that conveys a country's misery without indulging its terrors.
---
Sarah Mina Osman is a writer residing in Wilmington, North Carolina. In addition to writing for artistic fuseshe wrote for HQ Water Cooler, Huffington Post, HelloGiggles, Young Hollywoodand Matador Network, among other sites. His work has been included in the anthology Fury: Women's experiences in the Trump era. She is currently a freshman candidate for the Fiction MFA at the University of North Carolina at Wilmington. When she's not writing, she dances, watches movies, travels or eats. She has a deep appreciation for sloths and tacos. You can follow her on Twitter and Instagram: @SarahMinaOsman