When you're a construction company juggling multiple projects at once, those spreadsheets you've relied on in the past to manage everything start to become a major headache.
At this point, you'll need construction management software, and if you've done any research, you've probably heard of Buildertrend. The Nebraska-based developer has made a name for itself as one of the best options for construction managers.
But that doesn't mean they're for you. In this review, we'll explain exactly why Buildertrend is so popular, what the downsides are, and how to know if you should give it a whirl or look elsewhere.
Who is Buildertrend for?
Buildertrend software is for construction managers and contractors who want to control multiple jobs at once.
It has a well-organized dashboard and powerful team management features, as well as great customer support and strong reporting features to help you analyze your business performance.
You also get a sales module to manage this vital aspect of construction activity and a way to set your project schedule within the platform. While the Buildertrend pricing structure may leave small businesses out in the cold, it may end up saving money for larger teams.
Buildertrend Features
Buildertrend refused to provide us with a free trial and instead provided us with a demo video to showcase the software's features. Unfortunately, this makes it difficult to identify any broken functionality or other issues. However, four characteristics of construction project management particularly stood out.
Jobs menu
I was impressed with the jobs menu, which gives you a sense of control over your daily activities. All of your jobs are listed on the left, and you click on them to view them, see their statuses, and dive into more details like billing and logs.
Sales
Buildertrend understands that a big part of building is sales, and they have many elements that you would expect to see in a CRM software solution, such as leads and opportunities.
You will be able to generate proposals with minimal effort. The business part of the software doesn't dominate the dashboard, but it's easy to find when you need it.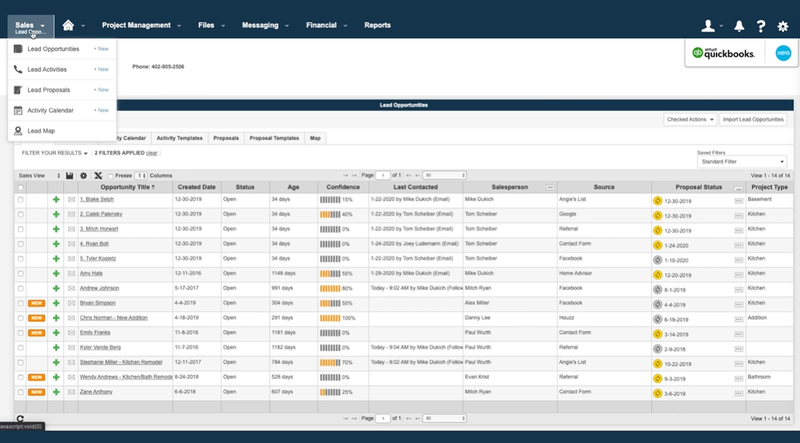 Messaging
Buildertrend has two ways to send messages. One is a "messages" function which is more like an email, then "comments" which is more like an instant messenger. The software also logs these messages and attaches them to the correct jobs so that you have a record. You can also request information via the "RFIs" function.
Owner view
The "proprietary view" allows your customer to visit your website, log in, and see a limited view of your work through the software. This allows you to share photos of work or edit orders. They will be able to sign the changes and see what decisions are made so that everyone is on the same page.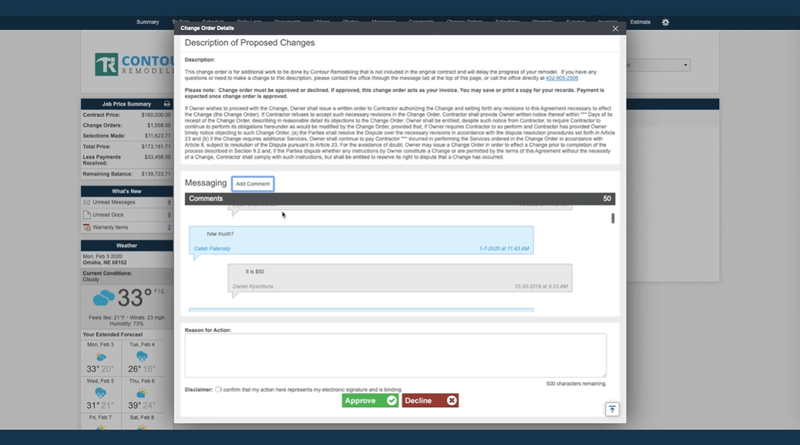 The ease of use of Buildertrend
Overall, Buildertrend is a professional and easy-to-use construction management software that will quickly get you hooked.
My first impression of the dashboard is that it's busy, but well personalized for each business. There's also a handy menu at the top that makes it easy to navigate to the most important parts of the software: Sales, Project Management, Files, Mail, Financial, and Reports.
A window on the far left displays the works in progress. You can click on each job to expand it and see more details. The larger window is on the right and displays the most recent daily construction logs so you are kept up to date with what is happening on the job sites.
And on the center left, between these two windows, you'll find other windows that show things like weather, order activity, job price summary, clock, and whatever else you want – it's all customizable.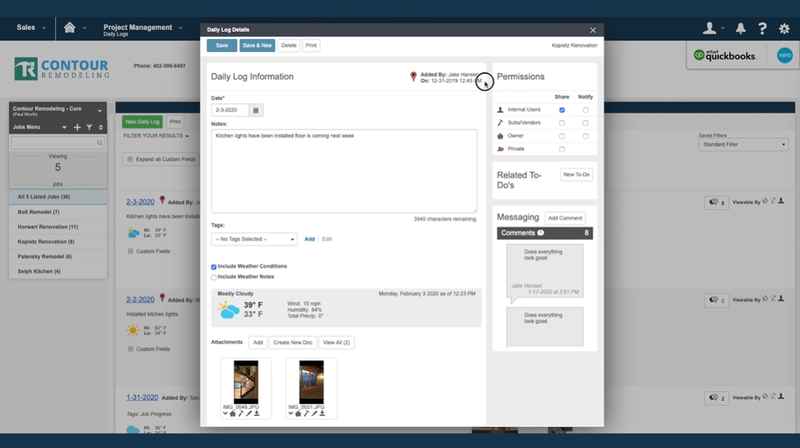 Finances can be the trickiest part of construction management, but Buildertrend presents them in a way that isn't overwhelming, separating bids, estimates, payments, budget, invoices, and reports. payment so that you can easily navigate between them.
And you can access reporting information with just a few clicks of a button, breaking down logs by job, sales leads, estimated cost vs actual cost, and a host of other reporting options. You will not miss any scans with this software.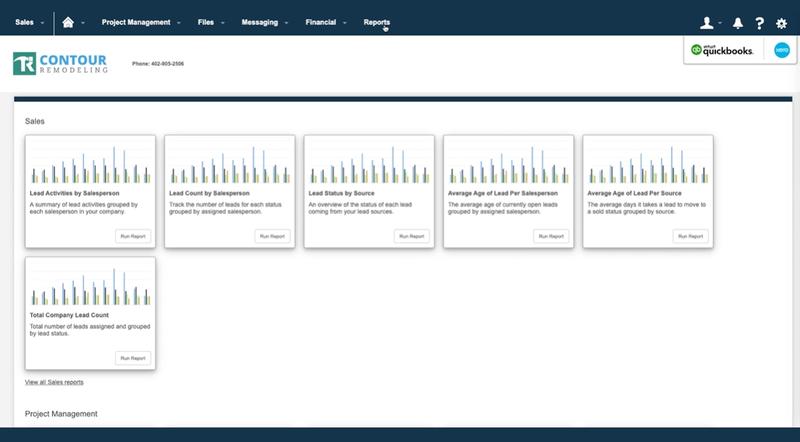 Buildertrend Pricing
Getting a free trial isn't as easy with Buildertrend as it is with other software options. You won't be able to just enter your information and get a connection. Instead, you'll have to pay upfront with the guarantee that you'll get your money back if you decide the software isn't right for you within 30 days.
The cheapest option is Core, which starts at $99/month for the first three months and then increases to standard $299/month thereafter.
The vendor I spoke to in spring 2020 said the introductory price was recently put in place due to the business challenges many construction companies are facing due to the pandemic, so it's possible that these prices launch are temporary.
If you want more advanced features like time clock, lead management, owner invoices, estimating, etc., the Pro version will cost you $299/month (increasing to $499 after three months).
Premium, the highest tier they offer, includes more features like branding customization and QuickBook integration. This pricing is done on a case-by-case basis.
That might sound expensive, but keep in mind that it includes unlimited users and unlimited tasks – a software option that charges per user can quickly top that price once you get past 10-20 users.
As a result, it can prove to be a cost-effective solution for large enterprises, although smaller entrepreneurs may balk at the price if they only need one or two users.
Additionally, Buildertrend's pricing is monthly, so there's less commitment – many other software developers try to lock in customers on a yearly basis, although they often offer discounts for yearly signups.
Buildertrend support
Their website has a Contact Us link at the bottom of the homepage that leads to a form you can fill out with your tech support issue. You will find a phone number listed at the bottom. I called him and managed to reach someone after a short wait.
The salesperson I spoke to said they assign a coach to each customer who helps with onboarding and any technical issues. That's definitely a big plus for this software, as many other options don't offer support at all, charge extra, or just provide general technical support through a call center.
Advantages of Buildertrend
Buildertrend is expensive, but you get what you pay for. The software is intuitive and well designed. You'll feel in control while multitasking, and there's plenty of automation and reporting to help improve your efficiency.
And because of its fixed monthly fee, it's a cost-effective solution if you have a large number of users compared to many other software options that charge per user. Plus, one-on-one coaching and support is a big plus.
You won't find many third-party integrations beyond Quickbooks, but it might work for many entrepreneurs who just want a comprehensive tool to run their day-to-day operations.
The Buildertrend mobile app allows your team to enter and leave the site directly. The Buildertrend app also provides tools for documenting the project and tracking things on the go.
If you can manage the price, this is a solid software option that would help most construction managers run their business better.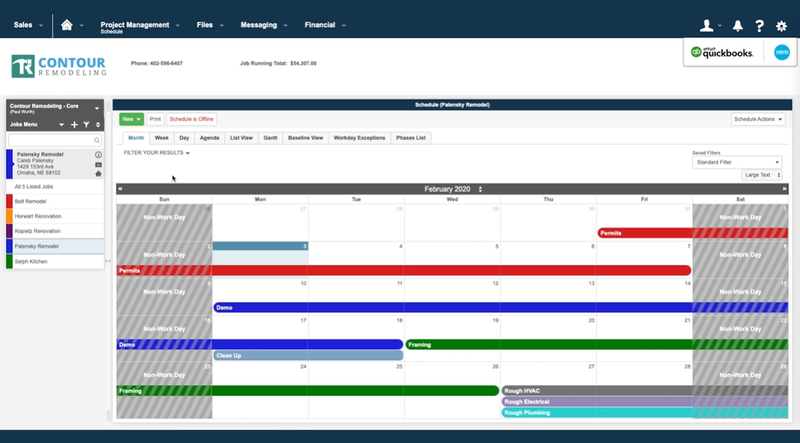 Experiment with Buildertrend before committing
The big question with Buildertrend is: do you need good extras such as one-on-one coaching and in-depth reporting tools, to name a few. Before you commit, you better accept them with their 30-day guarantee and experiment with the platform for a few weeks.
You might find that a cheaper solution is the better choice if you need a relatively simple platform and don't have as many users, for example.
Try Buildertrend for a few weeks while experimenting with user-charged or less-featured alternatives. The Ascent regularly publishes construction management software reviews to help you identify alternatives to more expensive solutions like Buildertrend.
Also try construction estimating software. Although construction management software gives you complete control over all aspects of your business, you may only need estimating software, especially if you are a small business that does not does simple work.