Pamela Becker is Marketing Director of WhizzCO and Co-Founder and President of Jeremy's Circle, an Israel-registered charity that provides a community of support for children and young teens growing up with cancer in their families. She joined CTech to share a review of "Option B: Facing Adversity, Building Resilience, and Finding Joy" by Sheryl Sandberg and Adam Grant.
Title: "Option B: Facing Adversity, Building Resilience, and Finding Joy"
Author: Sheryl Sandberg and Adam Grant
Format: Audio book
Or: Residence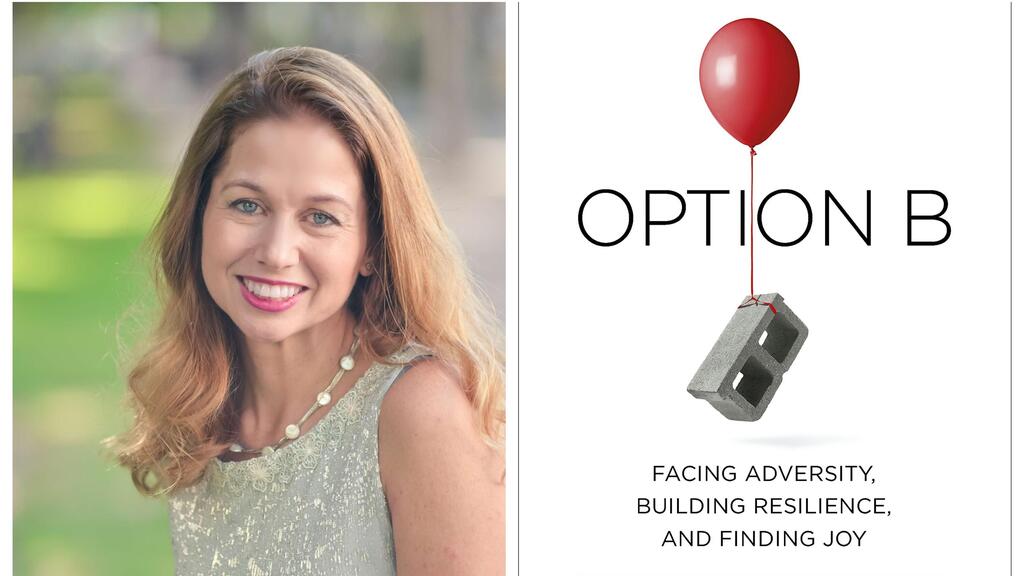 How did one of the most capable women in the world cope when the worst happened?
The COO of Meta (then Facebook) was a mother of two young children when her beloved husband died suddenly. Two years later, in collaboration with organizational psychologist Adam Grant, Sandberg published this book on resilience and dealing with personal crises.
They acknowledge that as an educated, well-connected, and wealthy white woman in America, she had it easier than most. They focus on the more universal concepts that have helped her and can help others when life isn't going the way we so carefully plan, and we need to make the most of life's Option B.
The authors discuss the "three Ps" in the face of a major crisis: personalization, ubiquity and permanence.
In other words, what happened is not personal. It is not a cosmic punishment for a crime you may have committed that took away your loved one. It won't ruin every aspect of your life. And it won't hurt so bad forever. This message seems simple and logical. I summed it up in four short sentences. But our thinking, when we suffer, is not always logical. Internalizing these concepts could bring enormous relief to many people in crisis.
The book also reinforced two key learnings from my own experience years ago as a young widow with young children.
We need our pain to be acknowledged, even when it is not understood. We certainly don't want others to intentionally avoid us. Sandberg describes the difference between casually asking someone in crisis the sometimes flippant "How are you?" to ask "How are you today?". Of course, someone in crisis doesn't like fishing. But that breaks the question down into something much easier to ask and answer.
We want to get in touch with people who get it without having to explain. Sandberg describes interactions with his relations who had also experienced immense grief. There is a shortcut. And meet others who know that shorthand brings comfort and encouragement because, among other reasons, it shows that survival (and our children's flourishing) is achievable.
Like in the book, I see my life before my husband Jeremy's death and after. Before, we were both executives at the same ad tech startup, sharing kids, a home, and even an office. Suffering from discomfort when swallowing, he was diagnosed with stage four stomach cancer and fourteen months later died.
Today everything is different. As Sandberg writes, even the music sounds different. The song from our wedding's first dance – It's A Perfect Day by Lou Reed – has a whole new meaning to me now.
I am no longer fresh in my grief. My husband died 14 years ago when my children – now in high school and in the Israeli army – were very small. It's only now, when I see that my kids are not just doing well, but actually looking pretty fabulous despite the loss, that I can identify more clearly what helped us cope.
It comes down to this: connections. Among themselves and with circles of family, friends and colleagues. And with people – whether we know them well or not – who understand us without us having to explain because they too have been there. That's why Jeremy's Circle, the support community we've created for children dealing with cancer or the loss of cancer in their family to meet and play with each other, is so important.
The book describes the painful impact of poverty, sexism and abuse on already painful circumstances and offers many statistics on the injustice of it all.
Meanwhile, Sandberg writes about how it helped lift the spirits of his grieving children when his friend Elon Musk invited them to check out a space project. My grieving children would have loved it too… but the anecdote and the choice to include it makes me wonder if she really is the right person to explain to us how much more difficult grieving can be without resources.
Who should read this book:
I recommend this book to anyone going through a crisis, as well as those who support them. There are smart, sensible lessons here on how we can help ourselves and each other in times of need.
Unfortunately, terrible things happen to all of us. Education, success and wealth do not protect us, although rightly or not, they provide tools that can help us and our children. There are steps we can take to make these tools more widely available, and they are mentioned in the book.