Getting Started with VMware Horizon 8 Version 2106
After detailing what's new in two Horizon updates earlier, Tom Fenton takes a look at some of the changes included in v2106.
In a previous article, I provided an overview of the new features included with Horizon 8 versions 2103 and 2106, released in July 2021.
These were pretty minor releases without anything monumental, but they had some cool new features that I wanted to dig deeper into. In this article, I'll update my Horizon 8 environment to version 2106 and take a closer look at some of the changes included in that release, including:
Using Microsoft Sysprep to Customize Instant Clones
Support for dual 5K and UHD (8K) displays
Extension of the display time of events
Allow app sessions to run indefinitely
Consolidation of Connection Server logs in one place
Upgrade to Horizon 8 Version 2012
Before starting the installation process, I first checked the release notes for VMware Horizon version 2106 to make sure my environment was supported.
I downloaded the 2012 Connection Server, Agent and GPO pack from VMware.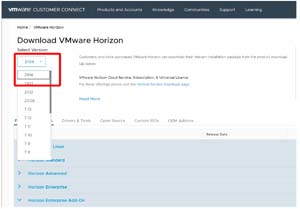 I updated my existing Horizon 8 2012 Connection Server to 2105 by running VMware-Horizon-Connection-Server-x86_64-8.3.0-18294467 on the Windows Server 2012 R2 virtual machine that hosted it.
The installation process took about 15 minutes and I was not asked to restart the system after it was finished.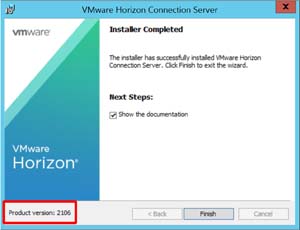 To update my Horizon Windows Client, I opened the client, clicked the help icon in the top right, selected Software updates then selected Download and install of the assistant. This capability is not available with older versions of the client.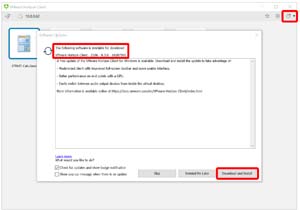 It did not ask to restart the device running the client after installing it.
The Horizon agent installed on my Horizon images without any issues, but a restart was required after installing the agent. I then took a snapshot of the image and updated my existing snapshot clone images using that snapshot without any issues.
New Features in Horizon Console
There are some new features that I wanted to discover after updating the system to 2106:
Unique machine names for Instant Clone: There are a few niche use cases where it would be nice to have unique names, rather than automatically generated, for instant clones. Horizon now supports this feature. When creating an Instant Clone desktop pool, you can specify the names of each Instant Clone.

In the wizard, I entered the names of the three instant clones; FirstMachine, SecondMachine and ThirdMachine.

[Click on image for larger view.]

On the Summary page these three machines have been listed.

[Click on image for larger view.]

And under Supply parameters it showed that three names were entered.

[Click on image for larger view.]

The named clones were created without any problems.

Microsoft Sysprep for Instant Clone Customization: In versions of Horizon 8 prior to 2106, only ClonePrep was supported for instant clones. In order for instant clones to be complete with linked clones, VMware has added the ability to use Microsoft Sysprep with them, although VMware recognizes that the cloning process will take longer with Sysprep and that an additional restart will be required when performing. the creation of clones.

When creating a new Instant Clone desktop pool under the Customization of guests tab, you have the option to choose to use ClonePrep or SysPrep. The SysPrep customization specification will need to be pre-created.

[Click on image for larger view.]

VMware recommends that you use ClonePrep unless specific Sysprep functionality is required for your environment, such as workstations that require unique SIDs.

Support for 5K and UHD (8K) dual screens with Blast: When using 5K and 8K monitors, each desktop requires a specific amount of RAM for video overload. The table below shows the amount of RAM that will be needed. PCoIP is not supported with 5K and 8K monitors, only Blast. PCoIP will report that the session has failed if you try to use 5K or 8K monitors.

| | | | | |
| --- | --- | --- | --- | --- |
| Resolution | Width (pixels) | Height (pixels) | 1-Monitor (Mo) | 2-Monitor (Mo) |
| VGA | 640 | 480 | 1.20 | 3.20 |
| 1080p | 1920 | 1080 | 8.00 | 25.40 |
| UHD (4K) | 3840 | 2160 | 32.00 | 78.00 |
| 5K | 5120 | 2880 | 64.00 | 128.00 |
| 8K | 7680 | 4320 | 128.00 | 256.00 |

When creating a pool, you can now select 5K and 8K monitors from the Maximum resolution of any monitor scrolling menu. The illustration below from VMware shows this.

[Click on image for larger view.]

Time-based events are displayed on Horizon Console: In Horizon Console under Event Configuration> Event Settings it has drop-down lists that let you specify when to display events in Horizon Console.

[Click on image for larger view.]

Allow application sessions to run without delay: Under Applications there is a new field named Bypass the session timeout. When this option is enabled, application sessions will be indefinitely. This is useful for avoiding unexpected timeouts for critical applications that need to be active all the time.

[Click on image for larger view.]

This can also be set in general settings.

[Click on image for larger view.]

Consolidation of Connection Server logs: :ProgramDataVMwarelogConnectionServer now contains all Connection Server logs. This is actually a symbolic link that redirects to the actual location of the log files, which is :ProgramDataVMwareVDMlogs.

API integration: VMware has released new REST API integration points. I sailed to https:///rest/swagger-ui.html and selected Last in Select a specification drop-down menu to view the latest integrations.

[Click on image for larger view.]
Conclusion
In this article, I've detailed my experience updating my environment to Horizon 8 2106 and reviewed some of the more exciting features included in this release. For a more complete list of new features, I recommend checking out the release notes.
Updating my Connection Server to 2106 came as no surprises and I found all of the new features I investigated to work as expected.
Tom Fenton has extensive hands-on IT experience gained over the past 25 years in various technologies, with the past 15 years focusing on virtualization and storage. He is currently working as a technical marketing manager for ControlUp. Previously, he worked at VMware as a Senior Course Developer, Solutions Engineer and in the Competitive Marketing group. He also worked as a senior validation engineer with the Taneja group, where he led the validation service lab and was instrumental in starting his vSphere Virtual Volumes practice. He's on Twitter @vDoppler.